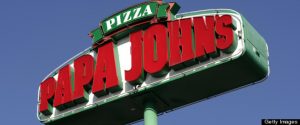 March 12, 2014–  When customers of Papa John's Pizza Franchise, in New York City, were charged a mandatory $1.50 "service fee" they were, falsely, led to believe this was a tip for the delivery driver; however, it was kept, entirely, by the franchisee employer.  At least, this was among the allegations of the New York State Attorney General when he filed an employment lawsuit against the owner of five Papa John's locations last year.
Last week, a New York State Supreme Court Judge agreed with the Attorney General when she ordered Papa John's to pay, up to, six years in back wages, overtime, interest, and damages to these delivery drivers.  The court found that, in addition to keeping the "service charges", the Defendant had utilized the delivery drivers to do numerous employee related tasks during their down time and, therefore, should have been compensated as employees. The court indicated that the tasks assigned were outside of the purview of what a delivery driver is expected to do.  The compensation and damage award is expected to exceed the sum of $2 million.
While the franchisee in this case has indicated an inability to satisfy the judgment, the drivers' lawyers are considering whether the law will allow the franchisor, Papa John's Corporate, to be held liable for the actions of the franchisee.  Last year similar labor cases held the McDonald's Corporate liable for certain, egregious employment actions of their franchisees.
Cases like this will, undoubtedly, have both store owners and Corporate Franchisors examining their daily, routine labor practices with an eye on the possibility of future litigation.
To read more see: http://rhrealitycheck.org/article/2015/02/09/papa-johns-ordered-pay-almost-800000-wage-theft-case/