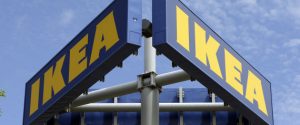 June  25, 2015– In March of 2015 this forum reported that regardless of the contentious minimum wage battles that have been plaguing the City, State, and Federal governments this year that some major corporate employers were voluntarily implementing pay increases for their hourly workers. (http://newyorkovertimelaw.com/blog/10-companies-that-have-vowed-to-raise-their-minimum-wage/)  Ikea, the furniture giant,  was one of the employers on that list.  The preliminary results of their voluntary wage experiment have been examined and what they reveal is dramatic and enlightening.
Ikea's Chief Financial Officer, Rob Olson, has announced that as a result of the positive consequences of their voluntary wage increases that they intend to implement a second round of such wage hikes.   Ikea's pay increase structure was based upon the relative cost of living in the various jurisdictions where it maintained stores.  Stores where the cost of living was the highest implemented more aggressive increases, creating greater financial parity among its U.S. Employees.
Olson made the announcement after summarizing what Ikea saw as the noticeable benefits to their company following the  implementation of the increase.   The first was a dramatic decrease in employee turnover from prior to the increase.  This factor alone reduced the company's spending on the recruitment and training of new employees, whereby, balancing the cost increases of higher salaries.  Perhaps less tangible but, maybe, more significant was what Olson cited as the ability to recruit more qualified candidates for open positions.   The increase resulted in a noticeable increase in the hiring of more qualified applicants, which resulted in better employees, according to Olson.
So, while others debate the positive and negative consequences of wage increases and their impact on corporate employers Ikea seems to have settled the question as to whether major employers can sustain the impact of wage increases for their lowest earners.  They, clearly, can.
To view the entire article: http://www.huffingtonpost.com/2015/06/24/ikea-minimum-wage_n_7648804.html