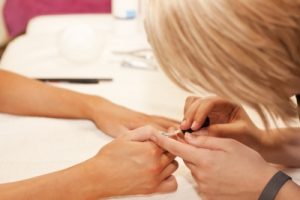 May 21, 2015– On a daily basis, women, and often men, across the City of New York patronize one of 2,000 nail salons in order to treat themselves to grooming at the hands of professional manicurists. The customers, often financially middle and upper class individuals, shell out significant fees for these periodic treatments in luxurious salons by industrious workers skilled at the art of beautifying their clients' nails through the art of manicure and pedicure. Despite the, sometimes, exorbitant fees paid New York City residents for this service, a recent study has revealed that many of the workers performing the pricey services have been subject to extreme wage and hour abuses at the hands of their employers.
According to a NY Times survey of 150 nail salons in NYC, "a vast majority of workers are paid below minimum wage; sometimes they are not even paid. Workers endure all manner of humiliation, including having their tips docked as punishment for minor transgressions, constant video monitoring by owners, even physical abuse."
In addition to wage related employment abuses recent studies have revealed that salon workers are exposed to various, toxic chemicals associated with the trade without the benefit of proper training, proper safety equipment, sufficient ventilation, or a proper understanding of the hazards they are exposed to.
New York State, and New York City in particular, has the highest per capita of the, over, 17,000 nail salons found throughout the United States. With the high cost of living in New York, the $1.50 per hour that is estimated to be the prevailing wage, including tips, for these workers is far below any established poverty line anywhere in the country.
These abuses seem to disproportionately impact the immigrant population in New York City because it is immigrants that fill the majority of these positions. The two largest groups impacted are Asian and Hispanic immigrants. Many of these workers, despite being the subject of gross employment abuses fear recrimination or unemployment as retribution for hiring employment law firms to present their grievances.
So what does the future hold for these oppressed salon workers?  Is there a roadmap to relief from the onslaught of abuses they sustain daily?  The Salon industry does not seem poised to make meaningful changes on its own.  State Salon Licensing Boards and Government Agencies are currently overwhelmed with large caseloads offering no relief for these hard working employees.  The one thing that is certain is that until someone does more than just study the conditions for this large group of workers their lives will not improve.