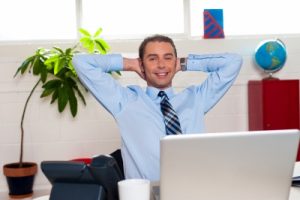 April 2, 2015–
"What can be done to make American workers more productive?"
It would seem the simplistic answer to this question might come down to three things; money, money, & more money; however, recent studies of the American workplace seem to indicate that there are other, non-monetary components that contribute to employee productivity.  In fact, according to Ronald Friedman, author and Phd. specializing in workplace psychology, meeting workers' emotional needs is just as significant as meeting their financial needs when it comes to employee productivity.
In a recent article from the Huffington Post entitled, "5 Surprising Things Ways To Be More Productive At Work" some of the following non-monetary suggestions were made to improve the workplace environment and productivity of American workers. These included:
1. Introduce Plant Life into the Work Environment– Studies have shown that plants in the workplace create a more pleasant and productive environment. Any type of foliage will do.  It is best to suit them to the environment, lighting, and the workers' abilities to care for them when choosing plant types.
2. Temperature Control– Creating a comfortable temperature through thermostat,  or clothing, adjustments is vital to productivity. One study even found that typists made less errors at 71 degrees F than at lower temperatures.  The key is finding a comfortable temperature that works for the whole staff. Fighting over the thermostat is not conducive to a healthy work environment.
3. Save Your Exercise for the Gym– Whether it is to save time, or because workers are under the impression that physical activity during the conduct of business was beneficial, exercise on the job, actually, decreased worker productivity according to one analysis. Workers that ran on a treadmill while conducting business did neither, particularly, well.
4. Ambient Lighting and Noise– Low lighting and some level of noise have tested as positive to worker productivity. While blocking out all noise may seem like a good way to concentrate, it seems that the complete absence of noise is not the optimal environment for being productive.
5. Lose the Angles– If you have any say in the furniture in your work environment it seems that studies reveal that softer, rounded edges to furniture are more conducive to productivity than sharp, hard edges like conventional business furniture.
There are numerous factors that contribute to worker satisfaction and productivity. Financial compensation and remuneration are, certainly, important considerations; however, they are not the only ones. Most American workers, spending most of their waking hours in a workplace, are more productive when the environment of that workplace provides them with emotional comfort, security, and non-monetary features that increase their happiness.
Creative approaches to improving work environments can be keys to employee retention and satisfaction.